Kasin Hunter -- Bedroom Redo - 2001
After doing nothing major to my bedroom for well over 20 years, I was ready for a change! Since Bill and I moved last year, this project fit in well with all the others I was doing.

I ripped up the old carpeting (so dusty!), wiped down the walls, filled the holes, then the painting began. After I piped the walls with cotton cordage, I painted all walls a dusty yellow and added a wall mural of wintering trees on the east wall. I liked that mural so much, I decided to give the entire bedroom an outdoor, southwestern, patio garden look.

I marked the outline and painted faux adobe tiles on the floor, added a garden lattice for a headboard and flowery curtains to finish. After the walls, floor and curtains were done, I felt like I had really accomplished something. And what a wonderful change! The first time I've painted faux adobe tiles, and they turned out to be a great painting project! Have a look.

Bedroom shot from the hallway.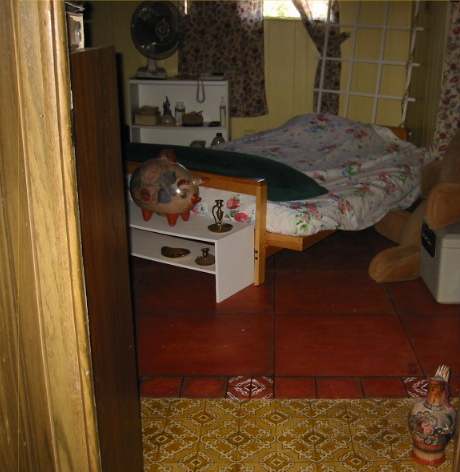 Close-up of transitional tile strip. I carried over the pattern and two colors of the vinyl tile onto the adobe tiles to make the transition from the vinyl flooring to the faux adobe tile an easier one.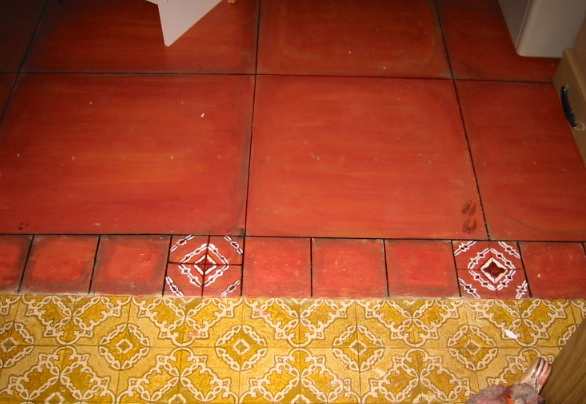 Keeping gourds in the new bedroom look wasn't hard. I used an accent gourd lamp on the t.v. unit. The gourd lamp is grouped with two candles on iron rod stands and an antique oil lamp. It finishes the corner nicely.
A ceramic pig purchased from Mexico 20 years ago and a favorite antique sewing rocker were pleasant touches. To the bottom are added tiny rabbit prints. When true adobe tiles are drying out in the desert, often desert critters walk across them, leaving their footprints. To mimic that and using a book on animal prints as a guide, I placed rabbit, coyote and javalina prints on various tiles. I used diluted black acrylic paint, fingertips, and one self-made cut-out. I was going to get one of the dogs to help make the coyote prints, but decided in the end to not put the poor creature through the inking process! (grin)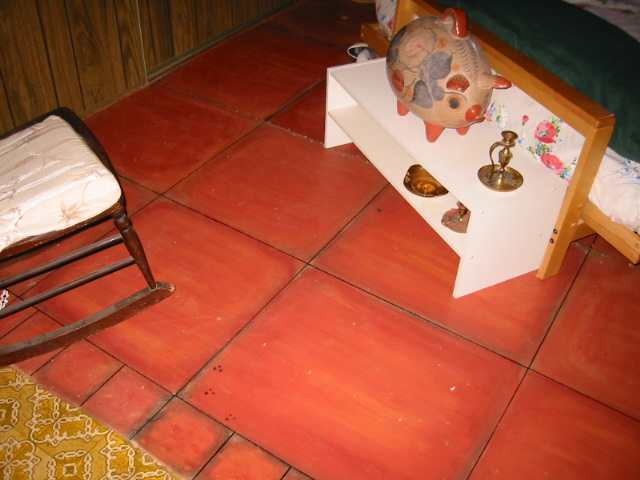 Curtains purchased as a kit: sheers, scarves, tie-backs, and loops for attachments all in one. Rods were purchased separately and cost as much as the curtains! But they matched the flower and leaf prints on the curtains so well, I couldn't pass them up. Next -- new bedsheets. These definitely don't match this refreshing Southwestern fare.
Some new bed linens, the toss of a Mexican blanket over the back of the sewing rocker, a few well-placed planting pots along the baseboard and the room will be done. I love being in there now!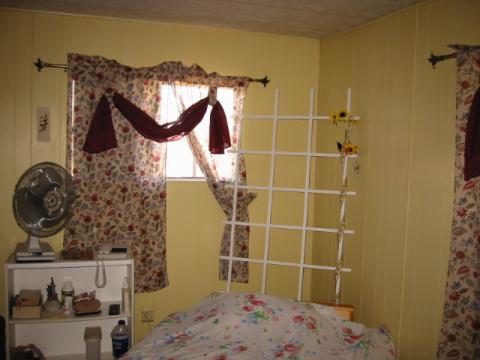 I've had two people come over to see the bedroom so far, and both of them bent over to feel the faux tiles. They have to touch them to understand that they aren't real! Good reinforcement for me to know they look so real. This has been a lot of work, but great fun and a great learning experience as well.
Thank you for visiting.

Would you like to go to
My email
2001 Gourd Art Gallery by Kasin Hunter?
or
Art From My Heart gourd art gallery
or
Kasin Keep gourd art gallery?