Welcome to Kasin Hunter's
Beaded Gourds 'n' More, 2002.
Late in the year 2001, I was diagnosed with the big no-no, chronic asthma. Yikes! The reason? Mostly allergies, and that unfortunately didn't exclude gourd dust and gourd mold. Boooooo.
So, I decided to find a new passion, if possible.

After visiting the Bead Show in Tucson, Arizona, I remembered how much I enjoyed beading those few times I did it. So I dug up my old needles, found some miniature volunteers (rough cut beads I found on lonely necklaces in the second hand stores) and put together this beaded egg shown below. Granted it's a beaded gourd -- you didn't expect me to give gourds up cold turkey, did you?! hahaha. Fortunately, this gourd was already cleaned before it was sent to me, so it caused no problems.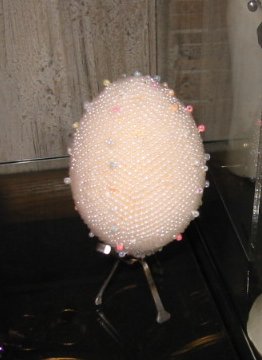 My first beaded gourd. This is an egg gourd, a hardshell gourd in the shape of an egg. It is done in an adapted Peyote Stitch (gourd stitch) completely covered with white, irregular, transleuscent beads. After I covered it completely, I went back and put linear columns of pastel beads running from top to bottom. I hope you like it. It was quite a challenge for me at this stage of the game.

I also tried my hand at a couple amulet pouches. Done in basic flat gourd stitch, then fringed and with handles, they are about 2-1/2 inches in size.
The one to the left has a snowflake and white winter flower on the front. The rear has a lovely cut out-like effect. I'll try to get a picture of that later.
NEW! Hey! Here's that picture I promised: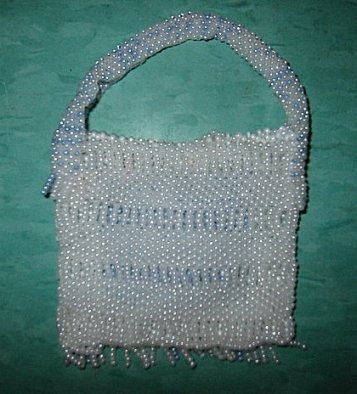 The back is done with columns of beads separated by spaces to you can see around each column to the inside of the purse. This effect was trial and error for me, but I finally did it this way (Instructions.)
The amulet pouch to the right is simple a heart on a solid background all done in lovely, light sherbert colors.
The tiny pouch in the middle is rounded to hold a tiny Easter egg and looks like a decorated egg itself with a handle. It's my smallest pouch to date, measuring in at approximately 1 inch tall. It was fashioned with the flat circlular gourd stitch. (Don't you just love that stitch? It's so versatile.)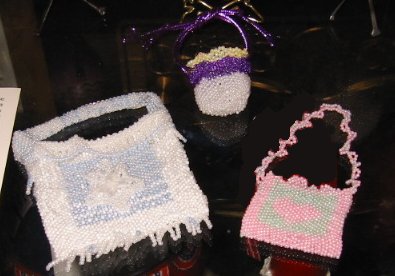 Well, I can't say that beading is an obsession of mine like gourds are, but beading is definitely becoming a passion.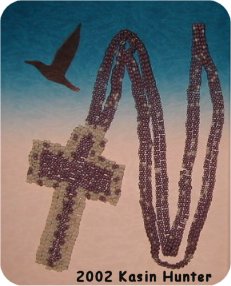 This cross necklace was stitched for a friend going into surgery on Monday, 3/04/02. It is to bring her health, strength, and love in face her physical ordeal. It's the first cross I've ever stitched and is irregular, but offered a wonderful opportunity for learning. I want to do more of these and better my technique.

Created on 030102 and 030202, this beaded egg gourd will go out as an exchange gift this week. It is done with size 11 seed beads for pastel sky and flowers and smaller seed beads for grass and flying bird images. It's the first beaded gourd I've done in the Huichol method although I used white glue rather than bees wax.
The red flower is a rose. The purple flower is a hyacinth. I'm particularly attracted to hyacinths because my grandmother planted them in my yard a year before she passed over.

Rose.


Hyacinth.



More beaded fun in 2002.
Thank you for visiting.
Would you like to go to
My email
2001 Gourd Art Gallery by Kasin Hunter?
or