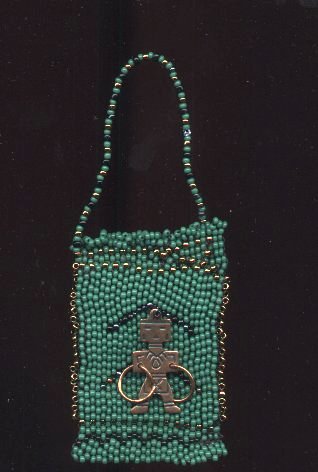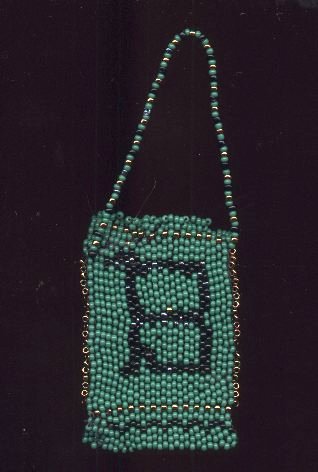 A glance back into my beading history. In early January, 2002, the first time I settled into making a beaded purse (challenge! challenge!) and also while trying hard to master the gourd (Peyote) stitch, I worked on this keepsake - an amulet pouch - for my mother, Barbara.
The pouch is made of opaque turquoise, copper and black Czechoslovakian beads, 10 or 11/0 and has an irregular flapped opening on top. I was still having trouble with the turn arounds at the ends of the rows and lost a few beads here and there - whole rows for that matter probably (whew!) - but did manage to get her initial "B" on the back of the pouch without freaking out.
On the front, I stitched on this Hopi Dancer earring - from a set of Mom's very first earrings. The earrings are the old fashioned clip-on kind and are about 50 years old now. Dad purchased the earring set for her to wear along with the first squaw dress she ever owned. He spent a whole paycheck on that dress and the earrings. I think it meant a lot to her to see the earrings out and used again. She got a little weepy when I gave the pouch to her.
It wasn't until about a month later that I learned about the Odd Count Peyote stitch and a better way to make the turns at the ends of the rows. Also I found out about a better thread to help with evenness of the project. Learning about beading and seeing one's progress is fun. I feel I'm really growing with this new beading interest. Plus, I can still incorporate gourds in some fashion into the beading work, which is double reward.
In a year from now, it will be fun to go back and see the progress I've made by looking at the quality of work on these early pieces. I already see progress in just these few months.