Smudge
Smudge, a black Astralorp, has started laying eggs. She began laying her eggs in the east garden where I constructed a "Chicken Moat". A chicken moat is an area fenced off from the rest of the garden where the girls can run around all they want to, but they can't get into the rest of the garden to tear it up. It's the perfect compromise between having a garden and having chickens in the garden. Here's the open end of the chicken moat. The moat itself runs completely around the garden perimeter on three sides. This part of the moat has a wooden chalet with a gravity feed dispenser, automatic waterer, and to the rear an elevated nesting box made from a large, cleaned out, paint bucket laid down on its side. The bucket is elevated off the ground with 2 X 2s and nestled in the apex of the chalet. The lip is elevated to prevent egg roll out. The chickens can access the rest of the moat by walking under the laying bucket or by flying over the roof of the chalet.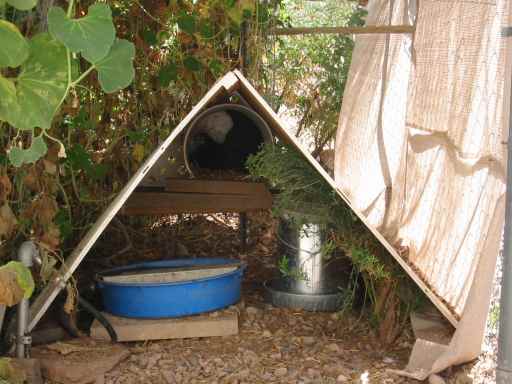 Here's a closer shot of Smudge trying to lay an egg in the nesting can.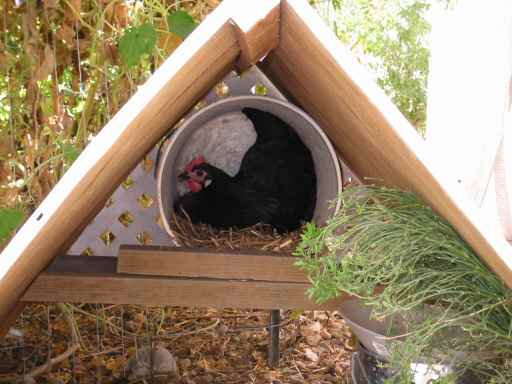 Smudge is quite a character, loud and boisterous one moment (you could hear her all over the street when she laid her first egg), then lovey and tender, taking grapes from your fingers. She lays some pretty nicely sized brown eggs right now.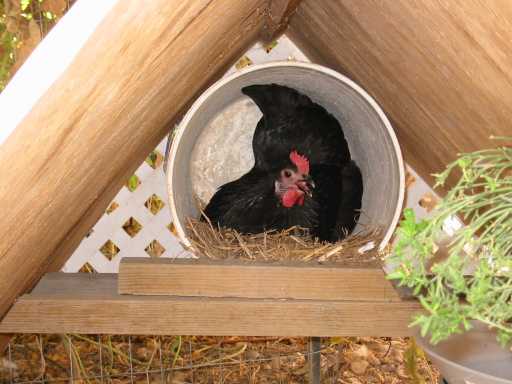 Back to Chickens in my backyard page.
Kasin Hunter's email.
Back to Kasin's main Tripod page.