Southern Arizona Gourd Association
Newsletter - No. 24 Tucson, Arizona September, 2001


September. Back to school. Hint of Fall in the air. Summer garden is winding down. What did September mean to you. For our nation, it meant dealing with the negative, an act of terrorism. I've flown American colors for years now. When the event struck, there was no scrambling at my house in search of a flag in local retail stores. My flag was on the front fence, where it had been for months. There was a scrambling for a new red, white and blue -- I purchased a teeshirt
with the American flag depicted and the word "united" covering from corner to corner. I guess I, like so many others, needed something special to show we care. I ask for all SAGA members and those who read this edition outside of SAGA membership, to pray for our country, for those that strive to save lives, for those personally touched by death in their family and neighborhoods. I ask that you, too, show your support to the world in whatever way you see fit, be it an American flag, a teeshirt, a trio of ribbon on the collar. Be proud to be an American.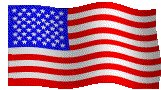 We had a great meeting this month, starting with the First Annual Southern Arizona Gourd Contest. We had entries from in and out of state. Bonnie Gibson and Kasin Hunter judged this year. Results are posted here on this web page:
http://www.geocities.com/kasinh/garden/SAGAContestResults.html. We look forward to even more great entries next year.

Special thanks goes out to Bonnie Gibson for helping to judge this year's SAGA gourd contest, and also, to Barbara Skinner who volunteered to fold and stamp last month's newsletters, and also to Judy Iwata-Smith who volunteered to address this month's newsletter envelopes. All help is appreciated. If YOU would like to help SAGA, contact Kasin Hunter at 520-746-1563 or email kasin@flash.net. Thanks!