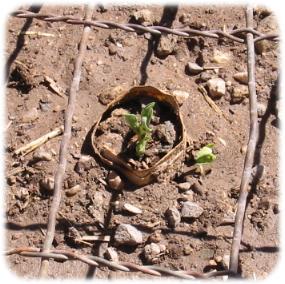 After your gourds or other sprouts have acquired their secondary leaves, transfer to the prepared garden spot. Here, the paper pot will readily decompose into the garden as the plant is watered and grows.
Jenny in Michigan emailed me today and said normally she plants her pots completely under ground level so none of the pot is sticking up above ground level as shown in the picture at left. I pictured the plant pot in the fashion shown at left so the viewer could note that the sprout, pot and all, is now planted in the ground.
However, note what Jenny's experience has been. She said, over time in her garden, the drying of the cup above ground continues down to the roots. Not good. I've never had that happen to my plants (usually, the piece of rim dries out and breaks off, adding to the compost in the garden with the roots remaining moist,) but Jenny's point is well taken. Even though the picture shows the newspaper pot slightly above ground level, you as a thoughtful gardener, may want to totally bury the whole pot so nothing shows but the sprout. Everyone's gardening needs are a little different. Couldn't hurt and may help. Thanks, Jenny, for sharing your own gardening experience for the benefit of all of us.