Outstanding Gourd Pictures
This is a collection of outstanding gourd pictures from over the years. These are pictures I've run across in my experience as a gourd artisan that were so outstanding in their artistry or uniqueness, I had to catalog them on this page.
The first one is a piece of gourd art from the 1997 Ohio gourd show. These gourds were grown, cleaned and decorated all inside the bottle. Simply amazing.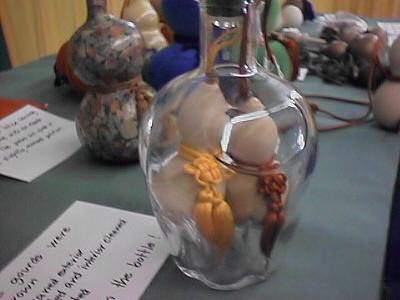 'Gourdpatcher Kasin won a blue ribbon for "Most unusual naturally." This despite the embedded chunk of fence this ferocious gourd bit off. We decided that it might not be exactly natural, but it sure wasn't on purpose. Kasin, thanks for sending this winner all the way from Arizona. --Mary Ann Rood, Gourd Village Garden Club.'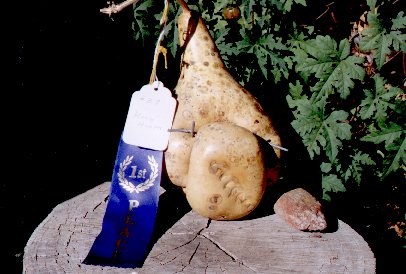 More pictures coming.

2001 Gourd Art Gallery by Kasin Hunter?
or
Art From My Heart gourd art gallery
Kasin's email
or
Kasin Keep gourd art gallery?